Program
Click to download our most
current program in
progress here
Updates are made periodically, please check back often.
Map of Tulane Engineering Form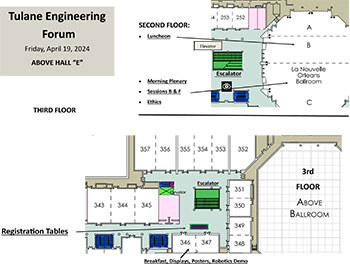 Click to View Larger Map »
---
Friday, March 31, 2023
8:45
MORNING PLENARY SESSION - 2nd Floor, Nouvelle Orleans Ballroom C
Presented by Ampirical
Chair: Cynthia "Tia" Ferguson, Director, Space Systems Department, Engineering Directorate, NASA Marshall Space Flight Center


Moon to Mars

Ryan Dardar, Senior Staff Mechanical Engineer / Spacecraft Lead, Lockheed Martin
Davey Jones, Program Planning & Control Manager, Human Landing System Program, NASA
Niki Werkheiser, Director, Technology Maturation in the Space Technology Mission Directorate, NASA HQ
Session A: Infrastructure
Presented by T. Baker Smith
Rooms 356-357

Co-chairs: Dave Kanger and VJ Gopu, PhD



Emerging Technologies in Bridge Inspection
Bradley Mistich, PE, Louisiana Bridge Repair Engineer
LADOTD

The Evolution of the Inner Harbor Navigation Canal Lock Project
Christopher Dunn, PhD, PE, Chief Engineering Division
USACE

The Louisiana International Terminal – The Challenges of Delivering Louisiana's Next Container Terminal
Chris E. Gilmore, PE, PMP, Director of Engineering & Environmental 
Port of New Orleans

Session C: Oil & Gas
Rooms 353-355

Co-chairs: John Kelly III, Chuck Mart, Tommy Meehan



Chalmette Refinery Renewable Diesel Project
Al Gomes, Project Director and Steven Duck, MS, PE, Project Advisor
PBF Energy

The Role of the Independent Energy Operator in the Deepwater Gulf of Mexico
Eric Zimmermann, Chief Operating Officer
LLOG Exploration Company LLC

Using Enhanced Problem-Solving Teams (EPST) to Solve Complex Problems
John Rhodes, PE, EPST Team Lead & CLFP (Incident Investigation and Problem Solving)
Shell Energy and Chemicals Park Norco
Session B: Energy
Significant Changes in Energy Markets and their Impact
Nouvelle Orleans Ballroom C

Co-chairs: Doug Chrisey, PhD, Melanie Spring, John McGaha, Don Vinci



Global View of Energy Markets in Light of Significant Changes
Daniel Brooks, Vice President, EPRI Integrated Grid and Energy Systems
EPRI

Entergy Infrastructure Strategy and Investment Plans
Matt Bulpitt, PE, Vice President, Power Development
Entergy

Energy Markets and Their Potential for De-carbonization
Eric Smith, Prof. of Practice and Associate Director
Tulane Energy Institute

Session D: Aerospace
Rooms 343-344

Chair: Eric Enright and Matt Barrios, PhD



Developing Space Transportation Technologies
Will Adams, Thermal Lead, Blue Ghost Spacecraft
Firefly Aerospace

Advancements in Expandable Habitats to Enable Human Space Exploration
Tyler Muma, Softgoods Technology Lead
Lockheed Martin

Hermeus and Hypersonics - Where We Are and Where We're Going
Glenn Case, Chief Technology Officer
Hermeus Corporation
Session E: Infrastructure 2
Rooms 356-357

Co-chairs: Dave Kanger and VJ Gopu, PhD



LA 47: IWGO Bridge Rehabilitation
Durk H. Krone, PE, Vice President, Design Management Services, Alternative Project Delivery
TRC Companies, Inc.

Bayou Barataria Swing Span Movable Bridge Replacement Project
Andrew Michael, Engineer 6 - DCL
LADOTD

Long Span Concrete Bridges
Matthew Lengyel, PE, SE, Project Director
Figg Bridge Engineers, Inc.

Session G: Water
Coastal and Riverine Hazards in a Changing Climate
Rooms 353-355

Co-chairs: Annalisa Molini, PhD, Soenke Dangendorf, PhD



Revitalizing the Maurepas Swamp - Fixing a 100 Year Old Problem
Brad Miller, Project Management Division, Project Manager
Coastal Protection Restoration Authority (CPRA)

Climate Preparedness and Resilience Planning in the Mississippi Delta Region
Will Veatch, PhD, PH, Lead, Climate Preparedness and Resilience
USACE Headquarters, Washington, DC

Coastal Storm Surge & Wave Modeling and its Implications for USACE Projects in a Changing Climate
Chris Massey, PhD, Research Mathematician, US Army Corps of Engineers
Engineer Research & Development Center's Coastal & Hydraulics Lab (ERDC-CHL)
Session F: Energy 2
Energy Technologies
Nouvelle Orleans Ballroom C

Co-chairs: Doug Chrisey, PhD, Melanie Spring, John McGaha, Don Vinci



The Louisiana Energy Evolution: Economic Development Strategy and Benefits
Lacy McManus, Executive Director of Future Energy
Greater New Orleans, Inc.

A Vision for Future Offshore Wind Energy Technology: New Turbine Concepts and Opportunities for the Gulf Region and Beyond
D. Todd Griffith,PhD, Professor
University of Texas at Dallas, Mechanical Engineering

Fully Using Solar Energy: Capture More to Do More
Matthew Escarra, PhD, Associate Professor
Tulane School of Science and Engineering, Department of Physics & Engineering Physics

Session H: Engineering Innovation
Presented by Captura
Rooms 343-344

Co-chairs: Trivia Frazier, PhD, Katherine Raymond, PhD and Chan Wong



Silicon for High-Performance Li-ion Batteries
Shiva Adireddy, CEO
Advano

Accelerating Innovation for Offshore Wind in the Gulf
David King, Chief Technology Officer
Gulf Wind Technology

Reality Capture/Laser Scanning for Industrial and Commercial Projects
John Tav, Technology Manager
Engineering & Inspection Services, LLC, Captura (A Technology Division of EIS)
Session I: LNG
Growing Importance of LNG from the US Gulf Coast in Global Energy Landscape
Room 345

Co-chairs: Chuck Mart, John Kelly III, Tommy Meehan



LNG Projects: Engineering to Start-up
Shelley Rueff, Global Manager of Engineering
Bechtel Corporation

Engineering Support in an LNG Facility
Juan Martinez Garcia, Director, LNG Engineering Services
Cove Point LNG, LP

Selecting the Liquefaction Unit Refrigeration Cycle and Power Source for Large and Small LNG Plants
Robert Saunderson, Engineering Associate - LNG Technology
Air Products and Chemicals, Inc.