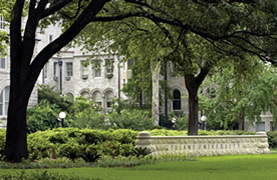 Founded in 2000, the annual Tulane Engineering Forum is presented by the engineering alumni of Tulane University and the Tulane School of Science and Engineering.
The forum is designed to allow Tulane University to reach out to the community and showcase the School of Science and Engineering while offering Professional Engineers an opportunity to earn PDH credits.
For more information about Tulane's School of Science and Engineering, please visit our website.
Home
20th Annual Tulane Engineering Forum
A Virtual Online Event
Wednesday, September 2, 2020
The Morning Plenary, Luncheon Keynote and Ethics presentations will be live streamed on Wednesday, September 2nd. Live, interactive Zoom Meetings will also be held throughout the day for General Networking, learning more about our Sponsors and engaging with Tulane engineering students through a selection of Project Presentations.
Seven additional sessions covering Infrastructure, Water, Refineries, Innovation, Energy, Aerospace and Covid-19 Technologies will be pre-recorded and made available along with recordings of the aforementioned Morning Plenary, Luncheon Keynote and Ethics presentations. All presentations will remain online for our registrants through September for convenient self-guided viewing
For more information view the 2020 PROGRAM